Adult Coordinated Entry: SF's Gateway to Exiting Homelessness
Episcopal Community Services (ECS) operates San Francisco's Adult Coordinated Entry (ACE) system, the gateway for people experiencing homelessness in the city to be matched with the services they need.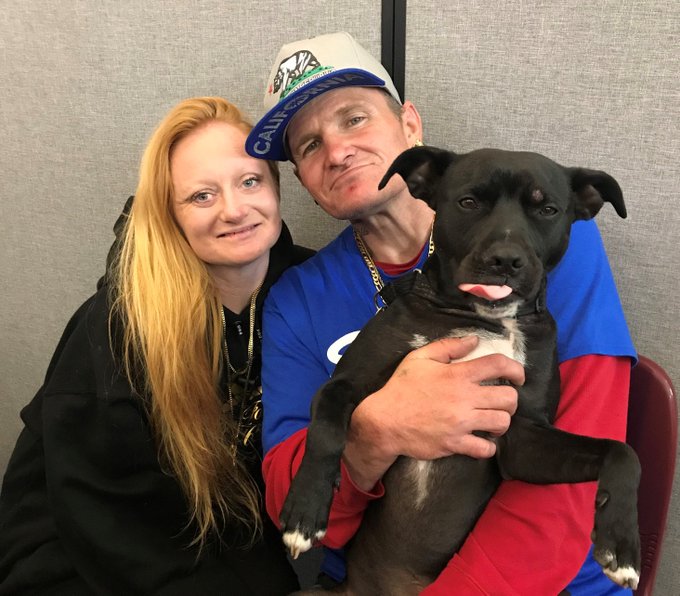 ECS became the lead agency of ACE for the SF Department of Homelessness and Supportive Housing in November 2018. This critical system was designed to provide a clear, standardized, citywide system to assess and prioritize the needs of people living on the streets, as well as a streamlined process to connect them to solutions to help them exit homelessness.
ACE is essential to effectively assessing and identifying the most vulnerable individuals and prioritizing them for solutions at Navigation Centers, as well as permanent supportive housing. Since ACE launched in fall of 2018, ECS and its ACE partners have assessed over 6,000 people experiencing homelessness to determine their eligibility for ACE services. The program has helped at least 543 people find housing and another 305 move off the streets and into Navigation Centers.
Before ACE was launched, San Francisco didn't have a comprehensive, easily accessible way for people experiencing homelessness to get the resources they needed. To navigate the system and access the right solutions, clients often needed more help from case managers, or it fell more heavily on clients to perform their own research and advocacy. That can be a challenge for people struggling to meet their basic day-to-day needs ⁠— especially if they have physical or mental health issues.
"The goal of ACE is to make the system more fair, transparent, and equitable for the most vulnerable people," said Holly Aversano, ECS's Associate Director of Adult Coordinated Entry.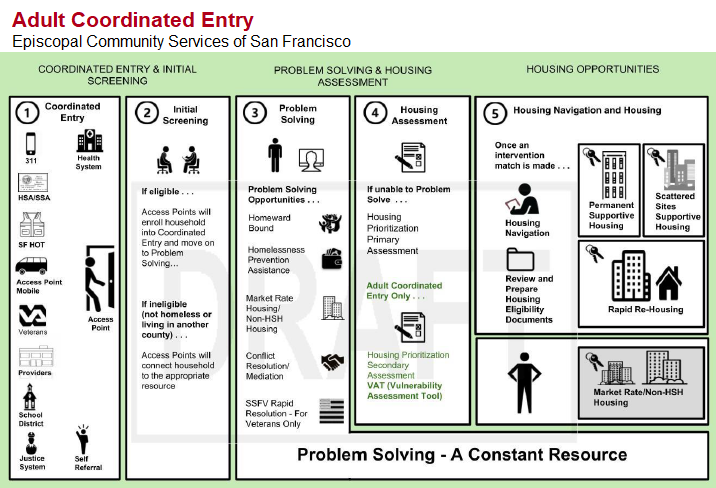 Accessing Adult Coordinated Entry
People can get registered and assessed for eligibility by ACE staff in a number of ways:
Office Access Points: People can walk into one of the two Access Point offices in the Bayview (2111 Jennings St.) and South of Market (123 10th St.) districts.
Mobile Access Points: People can also request a Mobile Access Point come to them by calling (415) 487-3300 x7000.
HOT Team: People may be contacted on the streets by the SF Homeless Outreach Team, which reaches out to spread the word about ACE and how to access it.
Referrals: People may be referred to ACE by institutions such as the city's health system, school district, Human Services Agency, veteran services, or the justice system.
311: Anyone can call 3-1-1 to get information on how to access ACE.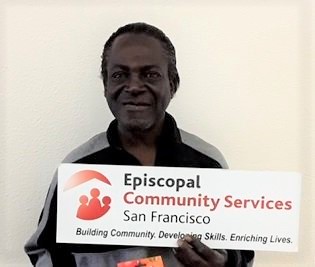 Problem Solving and Housing Opportunities
Clients who are determined to be eligible are connected with ECS Problem Solvers, who take a highly personalized approach to help people experiencing homelessness find solutions and pathways to housing.
Problem Solvers primarily connect eligible clients with:
Conflict Resolution/Mediation: It isn't always easy to ask friends and family for a place to stay. When appropriate, Problem Solvers may counsel clients on how to reconnect, build, and mend relationships to help ensure that they and their hosts feel safe and welcome in their new situation.
Financial Assistance: When designated funds are available, Problem Solvers may help clients cover costs to travel to a new home or provide initial rental costs such as security deposits.
Housing Opportunities: If a client's needs meet the criteria to be prioritized for supportive housing, Problem Solvers will help connect them to pathways to those available opportunities. They can also help clients help connect clients to housing outside of the Homelessness Response System.
For those not eligible, ACE will help connect them to any appropriate resources they might be able to use.
Housing Assessments and Navigation Services
ACE staff uses a 17-item questionnaire to assess whether a person experiencing homelessness will be prioritized for city-funded housing.
Those who are prioritized for city-funded housing as a result of the assessment are offered navigation services. Our "navigators" help clients complete housing applications and connect those sleeping on the streets with a bed in a Navigation Center, a temporary housing facility that provides on-site case management, streamlined access to social services and medical care, and assisted entry into pathways to permanent housing.
Clients who move into housing are offered stabilization services, such as medical care or employment support, which help them transition into and maintain their new housing.
Our Committed ACE Team
One year into the program, our Adult Coordinated Entry team is proud to continue to help lower the barriers to exiting homelessness for more and more people.
As Aversano puts it, "We want to give people as many second chances as possible."