NEED HELP TODAY?
Call 311 to make a reservation for a 90-day shelter, get additional information about services and/or request assistance from the Homeless Outreach Team. For a one-night shelter bed, please visit your nearest resource center for assistance.
LOOKING FOR HOUSING?
If you have been assessed by Adult Coordinated Entry for housing and have questions about your status, contact us at
(415) 487-3300 x7000 or email sfaces@ecs-sf.org.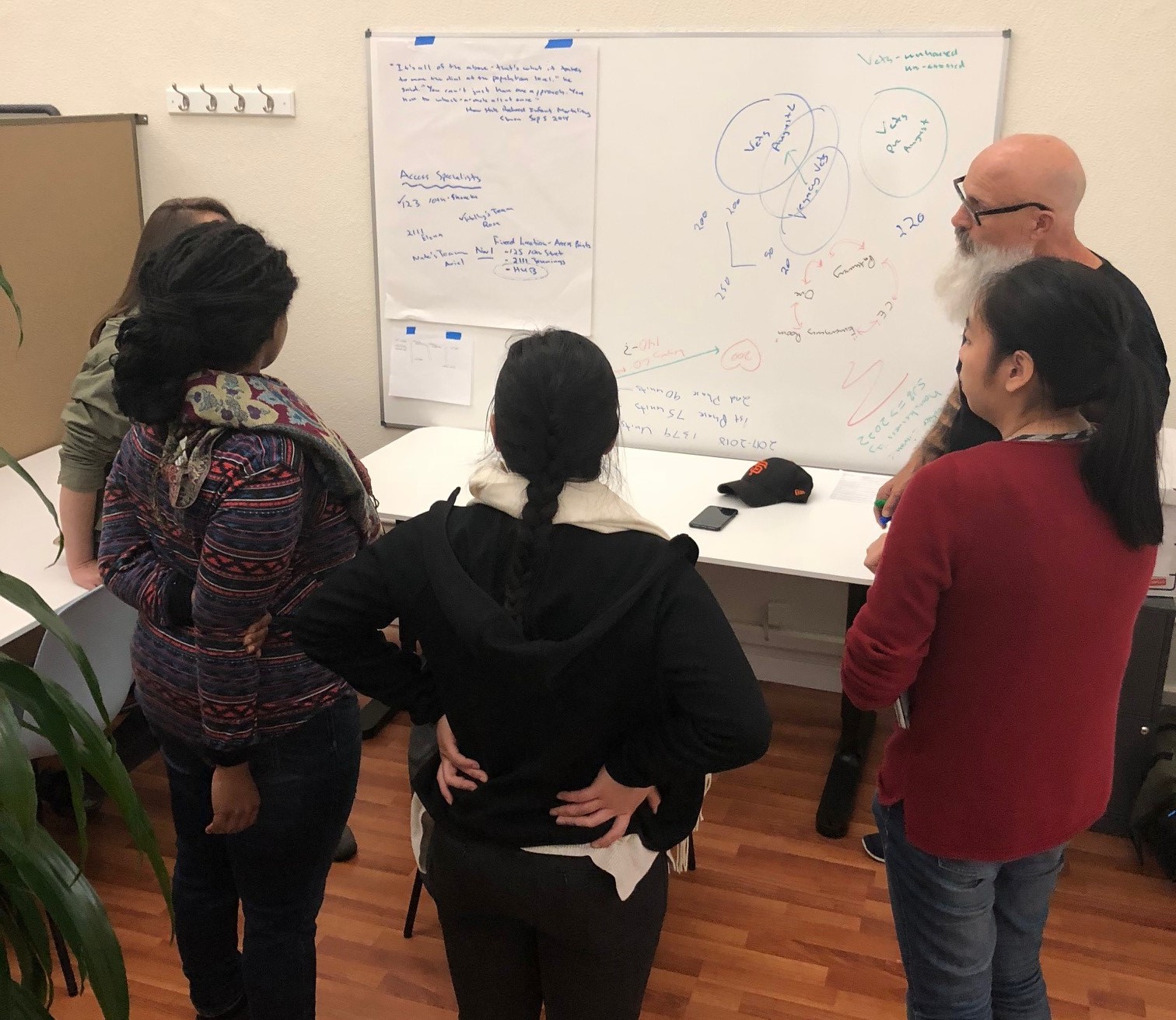 San Francisco Adult Coordinated Entry System
COORDINATED ENTRY (CE) is a key component of the Homelessness Response System (HRS) that treats homelessness as an emergency to be responded to quickly and effectively. CE is a consistent, community wide intake process to match people experiencing homelessness to available housing focused community resources, that are the best fit for their situation. It includes a clear set of entry points, a standardized method to assess and prioritize people needing assistance, and a streamlined process for rapidly connecting people to a solution to their homelessness.
ECS COORDINATED ENTRY ACCESS POINTS perform a variety of activities that assist adults who are experiencing homelessness.
Access Point staff provide eligibility assessments to verify qualification for services; Problem-Solving to help San Francisco adults quickly exit the Homeless Response System, housing assessment to prioritize clients for housing based on living situation and vulnerabilities, and matching to determine eligibility for available housing opportunities and referral to a potential housing opportunity based on eligibility and assessment results.
Access Points are found at 123 10th Street and 2111 Jennings Street @ Van Dyke (United Council), with more to come.
2111 Jennings St. 
San Francisco, CA 94124
Hours of Operation
Monday – Friday  – 9am - 12pm
Weekends – Closed
123 10th St.
San Francisco, CA 94103
Hours of Operation
Monday  – 9am - 4:30pm
Tuesday – 9am - 4:30pm
Wednesday – 9am - 12pm
Thursday – 9am - 4:30pm
Friday – 9am - 4:30pm
Weekends – Closed
For more information about the Adult Coordinated Entry system, please email sfaces@ecs-sf.org or call 415-487-3300 x7000.
If you are a provider and would like a member of the Adult Coordinated Entry team to come to assess at your site, email sfaces@ecs-sf.org.
THE GOAL: Reduce chronic homelessness 50% by December 2022: Focusing on the chronically homeless population will help ensure that people are housed more quickly. This has proven to be an effective strategy for reducing homelessness in San Francisco and communities around the United States.