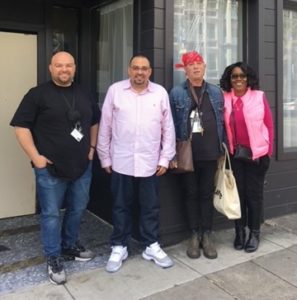 ECS' Residential Reentry program, under Interim Housing, consists of two initiatives, the Reentry Residential Program (RRP) and the Pretrial Pilot Project (PPP).
The reentry residential program provides up to six months of safe and supportive housing for those recently released from state prison, on parole and at high risk for homelessness. This program includes tailored supportive services. There are weekly case management meetings with Reentry Case Managers, who provide much-needed assistance with housing, employment, ensuring compliance with conditions of parole, etc. Participants also meet with a Peer Specialist, who assists enrollees with everyday needs.
The Pretrial Pilot Project launched in August 2022. This initiative, in partnership San Francisco Adult Probation Department, the Superior Court, and the San Francisco Pretrial Diversion Project, provides participants who are under pretrial supervision a safe, stable and supportive environment while waiting for their cases to be adjudicated. Participants have access to a case manager and services.
The Residential Reentry team collaborates closely with ECS' Workforce Development department to provide the training and opportunities needed to find stable employment amidst barriers. One recipient of this collaboration is "T." T was incarcerated for over 10 years and is dedicated to finding employment and changing his life. With the Workforce Development team's support, training and referrals, "T" was offered several positions and is now employed at Tenderloin Housing Clinic.