San Francisco's Largest Supportive Housing Development
Episcopal Community Services of San Francisco (ECS), Mercy Housing, and the City of San Francisco are collaborating on the construction of San Francisco's largest supportive housing development for formerly homeless seniors (age 55 years+) and adults. The dual-building development is being constructed beside the James R. Browning Court House on 7th Street and will extend through the block from Mission Street to Stevenson Street. Once completed, the residence will provide permanent studio apartments for up to 256 individuals experiencing chronic homelessness, with 103 of these new units earmarked for seniors. Each building will have a community kitchen, onsite laundry, and landscaped courtyards.
The facility also includes:
Community-use open space (open to the public five days per week)

Tom Waddell Urgent Care Clinic with the Department of Public Health's (DPH) specialized street medicine program and dental services

Offices for the Homeless Outreach Team of the Department of Homelessness and Supportive Housing (HSH)

Filipino-based public art installed as part of the construction
Construction is underway with a projected completion by the end of 2021.
Check out the snapshot of construction through December 2020
To see a regularly updated gallery of pictures of the construction, project, go to 1064 Mission Street Gallery. 
To learn more about the ongoing status of the project, go to: 1064MissionStreet.org. 
One of the model features of the supportive housing site is that the individual studio apartments are being constructed offsite. Once completed, the modular units will be transported to 1064 Mission Street and installed.
Engaging 
w
ith Our Community
ECS and our partners are working in collaboration with the community of 1064 Mission Street to situate the project into the neighborhood. These partners include neighbors along Stevenson Street, Central SOMA Community Benefit District, and SOMA Filipinas. We have also created the 1064 Mission Advisory Committee, particular to this development.
National Model
The development will be a national model, bringing together multiple best-practice elements to help San Francisco's most vulnerable, chronically homeless neighbors achieve housing stability, improve health outcomes, and lead stronger, more independent lives.
A Home for CHEFS Kitchen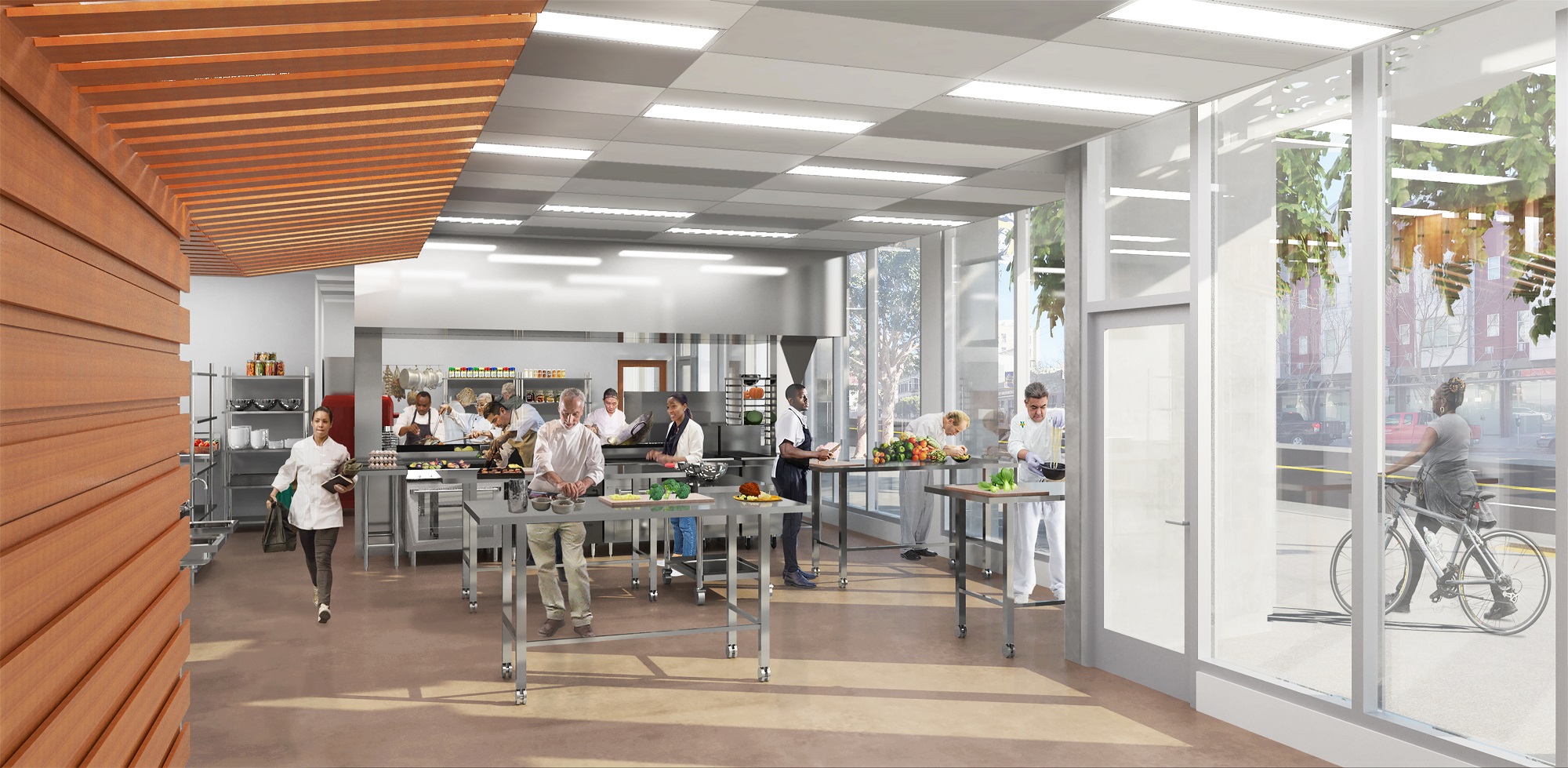 The first floor of the Mission Street side of the project will host the new CHEFS Kitchen, the next step in Episcopal Community Services' cornerstone workforce development and social enterprise program. We have carved out approximately 5,500 square feet of space on the first floor for a state-of-the art commercial kitchen and training center. The location will also serve as the home for our growing social enterprise, which will provide alumni of the CHEFS program with an opportunity to develop their culinary skills via paid employment, as well as serve the community with high-quality catering and meal services. 
At this site, CHEFS (Conquering Homelessness through Employment in Food Services) will finally have its own state-of-the-art training center with a dedicated teaching kitchen, abundant food storage, classroom space, and offices for instructors, case managers, and vocational specialists with an enrollment capacity for 360 students per year.